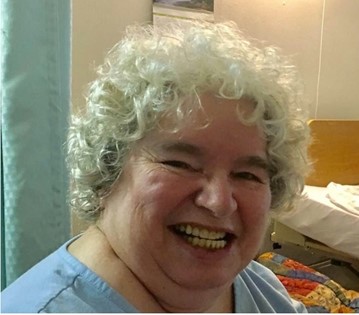 Kathryn Fisher
Feb 26, 1951 - Oct 5, 2023
Funeral services for Kathryn Blanche Fisher will be held at 9:30 a.m., Monday, October 16, 2023 at the First Church of the Nazarene, 408 East Sunset Dr., Riverton, Wyoming. Interment will follow at Mountain View Cemetery. A viewing will be held from 6:00 p.m. until 7:00 p.m., Sunday, October 15, 2023 at Davis Funeral Home. Flowers and condolences may be sent to Davis Funeral Home, 2203 West Main St., Riverton, WY 82501.
Kathryn "Kathy" Blanche Fisher Kathy Fisher, a loving and expressive mom and grandma, died on Thursday, October 5, 2023 at the age of 72 in Chadron, Nebraska.
Kathy was born on February 26, 1951 in Great Bend, Kansas to Ernest and Delilah (Lepej) Spaeny.
After graduating from Riverton High School, Kathy worked at the manor as cook. She also spent several years working at DH Print.
She met the love of her life, Jim Fisher, at a Christmas party. Kathy played hard to get and Jim asked her out five times before they went on their first date. The two were married on March 5, 1971 and were overjoyed to welcome four children and fourteen grandchildren throughout the course of their 49 years of marriage. Kathy also welcomed her great granddaughter, McKinley in 2023.
Kathy was an avid supporter of her children in all of their activities they chose to participate in. She was known for her vocal enthusiasm when cheering on her children at every sporting event, heard across the crowd. Nothing was more important to Kathy than her grandchildren and family. Kathy enjoyed meeting all of her family's needs from cooking and playing to snuggling grandchildren, as well as giving lots of hugs and kisses. Not only was she a loving mother and grandmother, she enjoyed raising sheep, pygmy goats, and rabbits on the farm earlier in life. She also enjoyed crocheting and knitting in her younger years. Later in life, Kathy enjoyed puzzles and relaxing with Jim on the porch. She also enjoyed playing cards with grandchildren (she was very competitive). When she was with caretakers, she would give them hugs and kisses. Kathy played mischievous pranks on the staff and loved to keep everyone on their toes. She enjoyed celebrating every holiday and dressing up for each occasion, and never forgot the sparkles. She was greatly loved by her caretakers. Kathy was caring and sweet and will be greatly missed by all who knew and loved her.
Kathy is survived by her sister, June "Sunny" Berg (Mark) of North Dakota; brothers, Roger (Trissa) of Utah and Casey (Sadie) of Wyoming; sons, Scott (Lee) of California and Tom (Erica) of Nebraska; daughter, Marsha Crow (Jimmy) of Wyoming; grandchildren, Pamela (Peyton), Desjone, Kyanna, Dayna, Dymen, Charlie (Sheila), Damiane, John, Ethan, Joseph, Trayce, Elijah, Bobby; great granddaughter, McKinley.
She is predeceased by her parents, Ernest and Delilah; her brother, Zane Darrel Spaeny; her son, James Joseph; her grandson, Erik; her husband, James.
On-line condolences may be made at TheDavisFuneralHome.com
Services under the direction of Davis Funeral Home, Crematory and Monument.