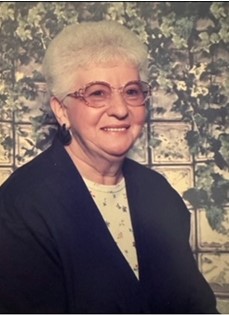 Mary Greenhalgh
Aug 19, 1934 - Oct 13, 2023
Our precious mother, Mary Greenhalgh, sadly passed on Friday, October 13, 2023 at the age of 89, after a lengthy fight with Alzheimer Disease. She was a wonderful mother of 7 children who was always there when they needed her. She was also there for many of our childhood friends and was known as"Mother Green" to most of them. She had many friends and was a much loved member of the community of Riverton, Wyoming, as well as the Riverton Senior Center and Red Hat Society. Mary had a contagious laugh, was a nurturer and compassionate to the needs of others even when she didn't have much for herself. She dealt with many hard times and heartaches but always persevered with grace and humility.
Mary was born on August 19, 1934 in Moody Idaho.
She is preceded in death by her parents, Martin and Molly Weimer and by 9 siblings: Edwin, Dan, Johnny, Ben, Donella, Elma, Bill, Martha and Jerry. She was also preceded in death by her husband, Emrys Greenhalgh in 2012 and 2 grandchildren, Justin Greenhalgh & Tessa Fabrizius.
Mary is survived by two sisters, Shirley Greenhalgh and Irene Winter; her 7 children: Judy (Doug-deceased) Raines, Greg (Joy) Greenhalgh, Perry (Chris Updike) Greenhalgh, Pamela (Doug) Fabrizius, Cynthia (Ed) Murray, Mary Ann Upton, and Angela Greenhalgh (Todd Gatseos); 12 grandchildren, Ryan Raines, Matthew Raines, Jennifer Chattin, Angel Ehlert, Jacob Greenhalgh, Mandi Reynolds, Nycole Courtney, Sidney Roland, Gabbi Sue Roland, Blake Upton, Kylie Montoya, and Joseph Upton; 18 great grandchildren and 1 great, great Grandson.
Please join Mary's family in her honor.
Visitation will be held at Davis Funeral Home, Friday, November 3, 2023, from 5:00 p.m. until 7:00 p.m.
Funeral Services will be held at Davis Funeral Home, Saturday , November 4, 2023, at 2:00 p.m.
For God so loved the world, that He gave His only Son,
That whoever believes in him should not perish but have eternal life.
John 3:16