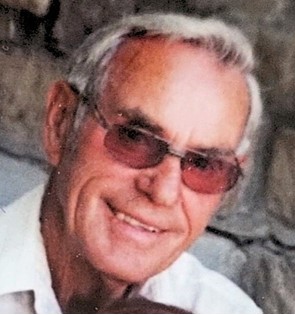 Joseph Streeter
Sep 22, 1936 - Oct 18, 2023
On a beautiful September day Joseph K Streeter was born on the family farm in Buffalo County Nebraska. On that day he joined his parents Joe and Marjorie Streeter and nine siblings. Later, four more children were born to the Streeter family. With "10" children money was tight so the doctor was paid with homemade bread for his help.
While growing up Joseph preferred the shorter version of his name so he went by Joe. Joe was the first of his siblings to graduate from high school, graduating in 1954. While attending high school he played football which started his love for the sport and his love for Kathleen Miller. Joe married Kathleen in 1955 and shortly thereafter they moved to California where their first child was born in 1957. Joe and Kathy moved back to Nebraska with Joe Jr. in 1958 and while there they welcomed two daughters into their family, one in '59 and one in '60. Another move was needed for work so in 1961 Wyoming became home. Joe rode a train there to get to a job working on Fontenelle Dam near Kemmerer. His family joined him moving to Kemmerer in 1963. While they lived in Kemmerer, they welcomed their fourth and final child in 1964, another girl. The family's last move was to Riverton in 1976. Joe worked for the city of Riverton for many years and retired from there as the City Airport manager. Next Joe and Kathy enjoyed traveling until Kathy passed away in 2003.
Among the things that Joe loved and enjoyed besides his two families was coaching his son, along with his team in Little League baseball and refereeing high school football while living in Kemmerer. He enjoyed shooting pool and was one of the founding fathers of the Twin City Billiards Association. While living in Riverton he was the team captain for the Satellite and Ralphs for many years and brought home trophies for his teams. Playing Pinochle was another pastime favorite. He grew up playing the game and taught his family how to play. He enjoyed his last game playing with his granddaughter, Melissa, just days before he passed away. Some of the fun times Joe had were hunting, camping, and fishing with family members. He really enjoyed living in Wyoming and said he would never live in Nebraska again because it got too hot there.
Joe is survived by four of his siblings, his three daughters- Patricia (Denny), Linda (Darrell), and Janet (Tex). Seven grandchildren- Melissa Beebe, Erin Cornia, Derek Summerlin, Rebecca Streeter, Jessica Tomazich, Trish Thorpe, and Ashley Horton. Nine great-grandchildren- Mariah, Cody, Marion, Jacob, Isabel, Catie, Matthew, Damion, and Noah.
Joe was preceded in death by his parents, nine siblings, his wife, and his son in 2017.
Joseph K. Streeter passed away peacefully on October 18, 2023 at home with family and support through hospice. He was 87 years old and he will be greatly missed.
Services will Monday October 23, 2023 at 10am at Davis Funeral Home. Reception to follow at the Reach Foundation.
On-line condolences may be made at TheDavisFuneralHome.com
Services under the direction of Davis Funeral Home, Crematory, and Monuments.
/