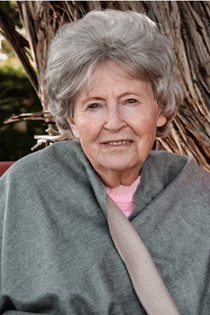 Louise "Tucky" Neff
Feb 5, 1933 - Oct 26, 2023
Louise "Tucky" Neff gained her angel wings on Thursday, October 26, 2023 and was welcomed home by her husband and her Granddaughter.
A Rosary will be recited on Friday, November 3, 2023 at 7:00 p.m. A Memorial Service will be held on Saturday, November 4, 2023 at 10:00 a.m. Both will take place at St. Margarets Catholic Church. Internment will follow the service at Mountain View Cemetery.
Tucky was born February 5, 1933, during a snowstorm in Eureka, Utah. She was the first child of Gordan Chase Frisby and Louisa Jane Frisby. Her baby sister Nancy Jane followed.
Tucky received her nickname from her beloved Grandfather Albert Tuckett who called her his little Tucky. She lived in Eureka, Utah until she was seven years old, and the family moved to Ruth, Nevada. She would spend her summers with her Grandparents in Eureka, Utah, and the school year with her parents.
Tucky brought three beautiful angels into this world. Connie Rae Fenton (Charlie), Jon Max Larsen, and JoDee Lynn Jamerman (Justin). Her children were her world.
On February 17, 1973, she married Burnayse "Bernie" Neff. They shared 49 wonderful years together before his passing in 2022.
Tucky held many jobs in her lifetime. Bookkeeper, secretary, Cash Cage Supervisor at a casino, but the most important job to her was sheep rancher. In 1974 Bernie and Tucky moved to his family ranch and started a sheep ranch of their own in Hiland, Wyoming. They worked side-by-side ranching for 26 years before retiring.
They would trail sheep to the Sun Place on Poison Spider Road near Casper for the summer. They trailed them back to the ranch and then on to farms in the Riverton area for the winter. Then it was back to the ranch to start the cycle over. At one point they were running 3,000 head of sheep.
In 2000 Tucky hung up her sheep hook and they retired to Riverton, Wyoming where she was always busy gardening and doing ceramics. She was always happiest being outside.
She is survived by her children and her loving family; 12 grandchildren, 24 great grandchildren, 7 great great grandchildren; Sisters-in-law, Marie Rush of Texas and Edith French of Montana.
She was proceeded in death by her husband Bernie, Granddaughter Jessie Jamerman, and her parents.
Flowers are very appreciated by the family.
Donations can be made to Walk4theanimals.com. Search for the name Carey Morgan.
Tucky's family will keep her in their hearts with love and remember her every day.
It is hard to forget someone who gave you so much to remember.
On-line condolences may be made at TheDavisFuneralHome.com
Services are under the direction of Davis Funeral Home, Crematory, and Monuments.