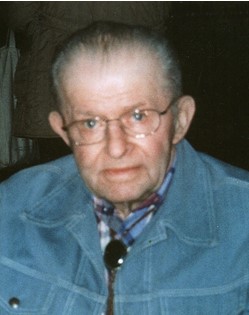 Arthur D. Lucas
Jun 14, 1923 - Jun 21, 2007
Arthur D. Lucas of Riverton died Thursday morning, June 21, 2007, at Westward Heights Care Center in Lander. He was 84 years old.

Funeral services will be at 10 a.m. Monday, June 25, at the Davis Funeral Home of Riverton. The Rev. Don Schlichting of the United Methodist Church of Riverton will officiate.

Interment will follow at Mountain View Cemetery in Riverton.

There will be a viewing at the funeral home from 5 to 7 p.m. Sunday, June 24.

Arthur Duane Lucas was born on June 14, 1923, in Litchfield, Neb., the son of Roy Francis Lucas and Ethel Elta (Doty) Lucas.

He attended a rural school through the eighth grade and then four years of high school in Litchfield, being graduated with the Class of 1940.

He worked in the Litchfield area until coming to Riverton in 1941 to work for Rosie Shuttlesworth, raising potatoes. Here he met his future wife, Wanda Williams.

The couple was married on Sept. 27, 1942, on a Riverton Valley farm near Delfelder Hall. Three children were born to this union -- James Arthur on Sept 20, 1944, Cheryl Kay on May 12, 1950, and Ronald Roy on Nov. 2, 1952.

The couple returned to Nebraska during World War II, while Mr. Lucas worked in a defense plant at Grand Island.

They returned to Riverton in 1946 and farmed in the Arapahoe area. In addition, Mr. Lucas did carpenter work. When his health began to fail in 1984, the couple moved to a place just outside the Riverton city limits.

Mr. Lucas helped build the Arapahoe 8-1/2 4-H cabin at the Fremont County Youth Camp above Lander. He served as a 4-H leader for many years, was a member of the Arapahoe Grange #50, and worked with the Future Farmers of America when his sons and grandsons were active in the organization.

He was a member of the United Methodist Church of Riverton and the Fraternal Order of the Eagles, Lodge #3026.

In addition to being a farmer and carpenter, Mr. Lucas enjoyed hunting and fishing. His family said Mr. Lucas had a good sense of humor.

Survivors include his wife, Wanda Lucas of Riverton; sons, Jim Lucas and wife Linda of Klamath Falls, Oregon, and Ronald Lucas and wife Jackie of Arapahoe; daughter, Cheryl Munroe and husband Montie of Encampment; 14 grandchildren, Robin Prue, Laura Smith, Sheena Lucas, Sean Lucas, Chris Trailer, Wendi Izzaguire, Dawn Avila, Lisle Munroe, Monica Solaas, Cathy Glenn, Melissa Addison, Travis Lucas, Cory Lucas, Parker Lucas; 20 great grandchildren; a brother, Bob Lucas and his wife Esther of Litchfield, Neb.; a sister, Maude Roberts and husband Archie of Ansley, Neb.

He was preceded in death by his parents; five brothers, Leonard, Francis, Dean, Floyd, and Larry.

Memorials may be made to the United Methodist Church of Riverton or to a charity of the donor's choice in care of the Davis Funeral Home, 2203 West Main, Riverton WY 82501.

On-line obituaries are available and condolences for the family may be made at: thedavisfuneralhome.com

Services are under the direction of the Davis Funeral Home of Riverton.