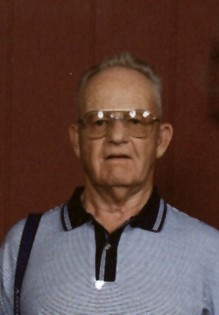 Jack A. Pollard
May 28, 1931 - Jul 11, 2007

Jack A. Pollard died at his home with his family by his side on Wednesday, July 11, 2007 following a 5 month battle with pneumonia and cancer. He was 76. Funeral services will be at 10:00 a.m. Monday, July 16, 2007 at the Davis Funeral Home in Riverton. The Rev. Don Schlichting will officiate. Interment will follow at Mountain View Cemetery in Riverton with Military Honors.

Jack Albert Pollard was born May 28, 1931 to Ruth Gertrude (Conant) and Paul B. Pollard in Riverton, Wyoming.

He attended Riverton schools with the class of 1949. On October 19, 1948, he joined the U.S. Navy with his buddy Herman Blumenshine and served his country for the next four years aboard a sea-going tugboat , the USS Tawakoni and the USS Mathews. Following his honorable discharge he was graduated from P.I.E. in Denver with a journeyman in diesel mechanics.

In 1955 he returned to Riverton to help his parents in the family owned grocery store as his father was in failing health. Following his father's death he pursued his career as an automotive parts salesman for Wyoming Automotive and retiring from Napa Auto Parts in 1996.

On August 4, 1953 he married his high school sweetheart, Lavonne Wood, at St. James Episcopal Church in Riverton, WY. They had two sons, Paul William and Brent Lee.

He loved the Wyoming Mountains, camping with his friends and family, photography, whittling, whistling and playing his harmonica.

Mr. Pollard is survived by his wife Lavonne, sons Paul and his wife Barbara, Brent and his wife Penny, both of Riverton; grandchildren Codie, Kayla and Colton Pollard; sister Margery Richardson of Chicago, IL; sisters-in-law Pearl Jones of Malad City, ID and Jane Napier of Riverton; and many nieces and nephews.

He was preceded in death by his parents, grandparents, infant brother and sister Vera Mae Pollard Hand.

Memorials may be made to Help for Health Hospice Home in care of the Davis Funeral Home, 2203 West Main, Riverton, WY 82501.

Online obituaries are available and condolences for the family may be made at: thedavisfuneralhome.com

Services are under the direction of the Davis Funeral Home of Riverton.