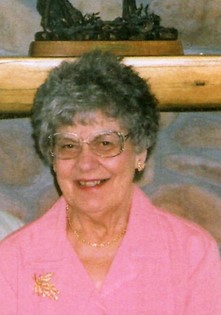 Janice I. DeLapp
Jun 24, 1924 - Jul 19, 2007
Funeral services for Janice I. DeLapp of Riverton will be at 11 a.m. Monday, July 23, at the Neighborhood Alliance Church in Riverton. The Rev. John Goecke will officiate.

Interment will follow at Mountain View Cemetery in Riverton.

There will be a viewing from 5 to 6 p.m. Sunday, July 22, at the Davis Funeral Home in Riverton.

Mrs. DeLapp died early Thursday, July 19, 2007, at Wind River Healthcare in Riverton. She was 83 years old.

Janice Irene Gearing was born in Alma Center, Wis., on June 24, 1924, the daughter of Edward and Mina (Bakken) Gearing. She had two brothers and four sisters. She grew up and lived on a farm where they raised strawberries and did dairy farming. She was graduated from high school in Black River Falls, Wis., on May 29, 1942.

On April 14, 1947, she married William W DeLapp in Merrillan, Wis.

Her first job was in Milwaukee, Wis., posting and filing for Allis Chalmers Mfg. Co. She then worked as an assistant secretary for Kelco Corp., in Black River Falls, typing letters and stencils, mimeographing, and filing.

Their son, William W. DeLapp, Jr., was born in 1948 and their daughter, Cathy Rae DeLapp was born in 1952.

The family moved west to Great Falls, Mont., in December of 1957, and on to Lewistown, Mont., in March of 1958, remaining there for 21 years. Mrs. DeLapp was employed by the Agriculture, Stabilization, and Conservation Service and was involved in production adjustment Soil Bank, and as a PSF loan clerk. She was an administrator of wheat and grain, did PSF loans and Soil Bank program. She retired from her position as head program assistant on July 28, 1978, after 21 years of service.

Mrs. DeLapp was also the secretary/treasurer of the Methodist Church Sunday School in Lewistown.

She moved to Riverton in 1978 to join her husband who was employed by Steen and DeLapp, their son's partnership.

In 1980, Mr. and Mrs. DeLapp formed their own business, Wesley Construction, an excavating contractor. Mrs. DeLapp supported her husband and served as the company's secretary.

Mr. and Mrs. DeLapp joined the Neighborhood Alliance Church and she served as the church secretary after her husband died on July 28, 1988.

Mrs. DeLapp was one of the first residents at the Owl Creek Apartments where her family said she made many friends and was driver for those in need of transportation. In October of 2001, she moved to Homestead for eight months and then lived at Sheridan Manor for 10 months, returning to Riverton on March 9, 2003.

Her family said she was a caretaker for her family.

Survivors include son, Bill DeLapp and his wife Katy of Sheridan; daughter, Cathy Renner and her husband Mike of Riverton; four granddaughters, Ricci Larsen and husband Mark of Riverton, Jodi Ibach and husband Mike of Sheridan, Angela Nordwick and husband Dusty of Shoshoni, and Amber Renner and fiancé Lance Stockman of Casper; great grandchildren, Tyler Larsen, Jessica, Deven, and Ashylon Ibach, Britney and Ty Nordwick, Evan Stockman, Lindsey Cox and John, and Troi Lynn Larsen and her fiancé, Brett Weber; great-great grandson, Ryan Cox; sister, Rosemary Overlien of Black River Falls, Wis.

She was preceded in death by brothers, Glen Gearing, Edson Gearing; sisters, Katheryn Gilbertson, Alice Gilbertson, and Wilma Overlien.

Memorials may be made to the Special Care Unit at Wind River Healthcare, in care of the Davis Funeral Home, 2203 West Main, Riverton WY 82501.

On-line obituaries are available and condolences for the family may be made at: thedavisfuneralhome.com

Services are under the direction of the Davis Funeral Home of Riverton.