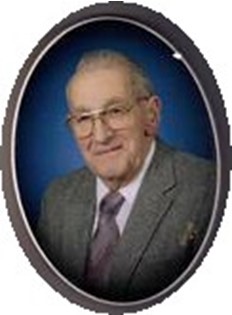 Robert B. "Bob" Meredith
Apr 8, 1924 - Jul 13, 2007

Memorial services for long-time Shoshoni vocational agriculture teacher Bob Meredith will be at 2 p.m. Saturday, Aug. 4, in the Shoshoni High School gym.

Mr. Meredith died at his home in Green Valley, Ariz., on Friday, July 13, 2007, at the age of 83.

He had been a resident of Green Valley for six months.

Robert Bruce Meredith was born in Sheridan County on April 8, 1924, the youngest of four siblings born to George and Pauline Meredith. He lived in Sheridan until he joined the U.S. Army in 1944 and had worked on the ranch with his family for most of his early life.

He served with an Army infantry unit in Germany until the end of World War II.

After returning from the war, he was married to Helen Marie Silla in October of 1945.

Mr. Meredith entered the University of Wyoming in the fall of 1948 where he began studying and working to become a teacher of vocational agriculture. He was graduated in 1951 with a Bachelor of Arts degree in vocational agriculture and immediately began his teaching career at Shoshoni High School, where he would stay until he retired in 1987.

As ag teacher, he also served as sponsor of the award-winning Shoshoni Chapter of the Future Farmers of America.

He had said that among his greatest honors was being selected as "Teacher of the Year" for the state of Wyoming in 1985.

His family and friends say he dedicated his life to the students and community of Shoshoni. Mr. Meredith saw several generations of families through their education process in his 37 years of service to the school and community of Shoshoni.

The family said he believed in his students and also believed that the greatest asset on earth were his students.

After Helen's death in 1993, Mr. Meredith married his long-time friend Beulah (Harris) in September of 1994.

Mr. and Mrs. Meredith moved from Shoshoni to Riverton in 2004. They moved to Green Valley in the spring of 2007.

Mr. Meredith is survived by his wife of 13 years, Beulah Meredith of Green Valley; son, Bob Meredith, Jr. and his wife Mary of Sahuarita, Ariz.; two daughters, Linda Meredith of Casper and Judy Duhring and her husband Frank of Saratoga; seven grandchildren and five great grandchildren; three step-children, Lydia Bird, Sue Tibesar, and Donnie Harris, and additional grandchildren from the Harris family.

He was preceded in death by his wife of 47 years, Helen Marie Meredith; his father, George Meredith, and mother, Pauline; two brothers, Jim and George, and one sister, Halene.

Memorials in his name may be made to the Shoshoni Senior Center.

On-line obituaries are available and condolences for the family may be made at: thedavisfuneralhome.com

Local arrangements are under the direction of the Davis Funeral Home of Riverton.