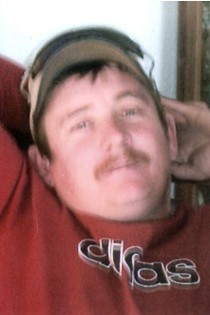 James L. "Jim" Pigg
Nov 15, 1966 - Apr 16, 2012
James L. "Jim" Pigg, 46, died at his home in Riverton on Monday, April 16, 2012.

Funeral services are at 2 p.m. on Friday, April 20, at the Davis Funeral Home of Riverton with Pastor Rex Whitman officiating.

James Lee Pigg was born in Riverton on Nov. 15, 1966, the son of Lonnie Leon Pigg and Phyllis Ann (Kimball) Pigg.

A life-long resident of Riverton, he was graduated from Riverton High School in 1985 where he was a varsity wrestler. He attended Central Wyoming College, studying business management.

He married Cheryl Rene St. John on Feb. 13, 1988, in Riverton.

He was of the Christian faith.

Mr. Pigg was a telephone technician with Qwest and had just received his 10-year pen. For 15 years, he had been a co-owner of the Golden Corral Restaurant.

His family said he took pride in his children and maintained a strong relationship with his sister and parents. He enjoyed going to garage sales with his mother, taking care of his yard, fishing, fixing up old cars, rode a unicycle, and spending time with his dog, "Tanner." In his younger years he enjoyed hunting and camping.

Mr. Pigg is survived by his wife, Cheryl; a son, Cody Pigg; daughters, Shellby Lynn Pigg, Brittney Rene Pigg-Marsico and her husband Joe grandaughter, Hunter Lynn Marsico; his mother, Phyllis Pigg of Riverton; parents-in-law, Bob and Linda St. John; brothers, Steve Pigg and his wife Roberta, and Doug Novotny and wife Nancy, all of Riverton; sisters, Nancy Wempen and husband Les of Riverton; brother-in-law, Chad St. John and his family; sister-in-law, Sheila Casey and husband Ken, all of Riverton; several nieces and nephews including Andy Wempen.

He was preceded in death by his father, Lonnie Leon Pigg, and niece, Michelle Wempen.

Memorials may be made to the Tough Enough Cancer Fund, in care of the Davis Funeral Home, 2203 West Main Street, Riverton, WY 82501.

On-line condolences may be made at: theDavisFuneralHome.com

Services are under the direction of the Davis Funeral Home of Riverton.