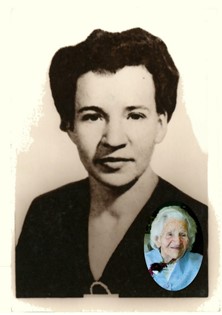 Willa Metcalf
Jun 6, 1922 - Sep 28, 2017
Willa Belle Metcalf passed from this world on September 28, 2017 at the Wind River Rehabilitation and Wellness Center following declining health. Services will be at 10:00 AM with a viewing at 9:00 AM on Monday October 2, 2017 at The Davis Funeral Home and conducted by Pastor Dale Adams. A Reception will be held from 12:00 Noon until 4:00 PM at The Shoshoni Senior Center. Interment will be at Mountain View Cemetery.

Willa, a Shoshoni resident of more than 60 years, was born on June 6, 1922 in Douglas, Wyoming to Edwin and Matti (Jackson) Carlon. On March 10, 1941 She married Jess O. Metcalf in Rawlins, they were later divorced.

A great Mom first and foremost, sweet, kind and caring and always giving she is survived by her four children. Daughters Stephanie (Ron) Roemmich of Riverton, Barbara (Bill) Weaver of Thermopolis, Janice (Bryce) Hunter of Riverton and Son Jesse "Bud" (Barbara) Metcalf of Windsor, Colorado. 13 Grandchildren, 21 Great Grandchildren and 5 Great Great Grandchildren. Sister Elizabeth Carlon of Sheridan, Wyoming and numerous Nieces and Nephews. She will be greatly missed by the all. She was preceded in death by her brother Thomas Carlon and sisters Iona Stinson and Kathryn Bourquin.

Fiercely independent she continued to live on her own in Shoshoni until the last few weeks. Willa's interests included family, garden & yard, her home, scrapbooking, wildlife, recipes and cooking. Memorials may be made to The Shoshoni Senior Center.

On-line condolences for the family may be made at theDavisFuneralHome.com.

Services are under the direction of the Davis Funeral Home.