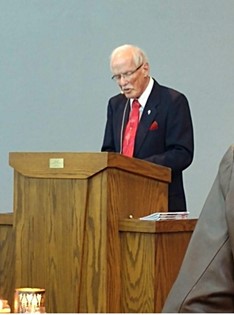 Walter G. Gilroy
Mar 7, 1940 - Apr 11, 2023
A Memorial service for Pastor Walter G. Gilroy, 83, will be held at 1:00 p.m., Thursday, April 13, 2023 at the 1st Church of the Nazarene in Riverton, Wyoming. Pastor Gilroy passed away on Tuesday, April 11, 2023 in Lander, Wyoming.
Walter G. Gilroy was born on March 7, 1940, son of Layton and Lilla M. (Fraser) Gilroy in Springhill, Nova Scotia, Canada. He attended Mount Allison University in NB Canada and Ryerson Tech in Toronto, ON Canada as well as Queens University in Kingston, ON Canada.
On August 7, 1971, he married C. Caroline Kirby at the South Meridian Church of God in Anderson, Indiana. During his lifetime, Walter was able to spend time living in Truro, Nova Scotia, Canada, Merigomish, Nova Scotia, Canada, Calgary, AB, Markdale, ON, Canada, Goshen, IN, Elkhart, IN, Casper, Wyoming and since 2001, Lander, Wyoming.0
Walter was a Man of God who loved his family and enjoyed spending time with them. He served as a Pastoral Minister and Hospice Chaplain. He was one of the most patriotic non-American citizens of the United States. He was a Snoopy fan who also took pleasure in gardening and yard work and enjoyed his daily swim.
Survivors include his wife, Caroline Gilroy of Lander, WY; son, Layton C. (Lori Conner) Gilroy; daughters, Tabitha (Matt) Shaw and Charity (John) Hardman; sister, Marie Gilroy; 6 grandchildren and 1 great grandchild.
He was preceded in death by his parents; brother, Edward Gilroy and sister, Jean Taggart.
On-line condolences may be at TheDavisFuneralHome.com
Arrangements are under the direction of Davis Funeral Home, Crematory, and Monuments.